---
Welcome to Casa del Sol Connections!!

This is already our third issue of Casa del Sol Connections -- time is flying by! We are just finishing up our very busy high season in the Lake Chapala area and it was a great one, with many new customers plus the return of lots of familiar faces and friends who love Ajijic and Casa del Sol.

I thank each and every one of you for choosing Casa del Sol as your "home away from home" in Ajijic, and I hope to see you again soon.

In this Issue:

• Casa del Sol Updates
• Collector's Corner--The Art of the Huichol
• Views of Ajijic
• Tapas Are for Sharing
• Avocados Aren't Just for Guacamole
• Day Tripper
• Mexico's Big Hope: Get 5 Million U.S. Retirees
• Upcoming Events




Enjoy -- Read On!!


Cathy Roberts
Owner/Innkeeper
Casa del Sol Bed & Breakfast Inn
Ajijic, Mexico

May, 2010
---
Casa del Sol Updates


Yoga & Cultural Retreat
In addition to our usual busy high season, Casa del Sol was the site for a 5-day Yoga & Cultural Retreat held in mid-March. We welcomed 12 women who participated in daily yoga and related exercise sessions and nightly starlit meditation led by Cathy's sister Tracey Roberts, a certified yoga instructor with her own studio in Illinois. We also spent a day at the MonteCoxala Spa starting with a yoga session, then enjoying their beautiful thermal pools followed by a delicious luncheon in the Chac Lan Restaurant overlooking Lake Chapala.

For the cultural introduction to Mexico, Retreat participants were treated to a walking tour of Ajijic, a guided birdwalk, a tour of historic Guadalajara and some shopping with lunch in Tlaquepaque, plus an evening of healthy Mexican cooking and cuisine. One attendee summed up the week: "It was just a wonderful experience. Such rich cultural offerings -- and quite varied! You ladies pulled out all the stops -- just wonderful!"

If this type of event interests you, please drop us a note and we will add you to our email list when we plan another Retreat.

Newsletter Archive
Check out our new webpage which captures our past Newsletters -- each time we publish Casa del Sol Connections, it will be archived here in case you want to read something again or forward it to a friend.

&nbsp&nbsp Click here to see the Newsletters page

Mexico Resources & Links
And don't forget our page of Links to other interesting websites and blogs about Mexico and the Lake Chapala area.

&nbsp&nbsp Click here for the Mexico Resources/Links page


---
Collector's Corner -- The Art of the Huichol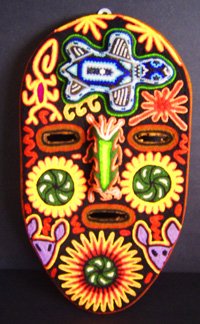 Written by Harriet Hart

In a colorful country like Mexico, the beadwork of the Huichol Indians stands out as more eye-catching and vibrant than the other artifacts on display, whether in the shops, art galleries, village square or the tianguis (Wednesday market). I had often stopped to admire a mask or necklace without giving a second thought to who the artists were or what the significance of the items might be. My curiosity was not aroused until I was asked to write a magazine article about Huichol beadwork.

What makes Huichol beadwork so special? I began to find answers in the village square. It was there I spotted the man selling his handiwork whose infant daughter had recently graced the cover of the Lake Chapala Review. On his table were yarn pictures, beaded masks, jewelry, ceremonial bowls and small animals. I had to talk to him, but how? A neighbor had a stall next to his. I asked her if she would be my interpreter. As luck would have it, she is little Meztli Lucena's godmother! Georgina introduced me to the baby's father, Joaquin Bautista, who is a skilled craftsman and a leader in the Huichol community. I asked him how he started beading. "My cousin taught me. Relatives usually are the ones who teach us the traditions". Each piece is made first by spreading a thin layer of beeswax over a wooden form or hollowed gourd, and then meticulously pushing small glass beads into the wax to create complex patterns and symbols. Joaquin has been beading for over 20 years.

"Tell me about these two pictures. What do they depict?" Joaquin began to explain. In the center of the first was a two-headed eagle, one head representing communication, the other fertility. At each of the four corners was a peyote flower and in the center, a shaman, who teaches his people how to become wise. His second picture, equally beautiful, featured a sun in the center with serpents on either side, the symbols of rain, corn growing and the mothers and grandfathers who signify fire, wind and rain. It was fascinating. I picked up a mask. On it were a blue deer for wisdom and peyote flowers, the vehicle through which you gain it. "Wrap it up", I instructed Joaquin. I have a weakness for masks.

Author Peter Collings, who has written a book about the Huichol people, joined us and encouraged me. "Every item you buy helps preserve the culture." Research can be an expensive activity! I needed to find out more about this culture I was now helping preserve.

At home, I searched the internet and discovered that information about the Huichols is plentiful. One author calls them "the real treasure of the Sierra Madre…a fragile indigenous culture, a window open to the natural world of pre-Columbian times that has been preserved for centuries high in the isolated mountain ranges of the Sierra". They call themselves "the healers" and for centuries have performed ceremonial rituals they believe heal the earth and keep nature balanced. They make a ritual offering of the white tailed deer to their nature deities, believing that the blood of the sacrificed deer nourishes the earth.

The Huichols incorporate the natural environment into their philosophy. Mountains are physical embodiments of their ancestors, who stand guard with love and guidance. The rivers are the veins of Mother Ocean, conveying her life-giving blood inland. Father Sun warms the earth and produces crops, Grandmother Nakawe brings the rain. Man must be the steward of the natural world.

There are approximately 8000 Huichols living in five communities scattered throughout the Sierra Madre. For centuries they lived by cultivating maize, beans and squash, gathering wild plants, hunting and tending domesticated animals. Their farming practices have a spiritual component. When they plant the seed they enter into a sacred bond with the vital forces of nature, the sun, soil and rain. Shamans interpret sacred obligations that include mystical deer hunts, the creations of votive objects and numerous ceremonies.

Of utmost importance to the Huichol is the sacred Peyote. Peyote looks like a cactus and grows wild in the desert. It has been used for medicinal purposes as well as for spiritual visions and experiences for thousands of years. Huichols use peyote so that they can travel and talk with the spirits. It is important to see the reindeer in their travels because this means that they are in contact with the Gods and their communication is sacred. Every year they make a pilgrimage across Mexico's central plateau to seek out the mescal cactus, peyote. The rounded buttons on the top of the cactus are collected, dried and carried home where they are ingested on ritual occasions. Shamans use the peyote to produce visions about when to plant and harvest, where to hunt the deer and how to treat illnesses.

The traditional Huichol art forms were masks, ritual items and geometric embroidery. In the last few decades, using glass beads from Czechoslovakia, they have been depicting their visions on wooden items or animal skulls. Weird shapes and brilliant colors combine in a psychedelic style to depict snakes, birds, rabbits and deer alongside ritual objects like feathers, candles, drums and peyote. Colors carry meaning. White stands for clouds, blue for the ocean, water and rain, red is for fire and green for the earth, healing and growth. Animals have significance, too. The rabbit represents fertility, the eagle a divine guardian, the deer peyote.

Over the past twenty years, Huichol culture has been threatened by a government policy to integrate them into the mainstream by building roads, schools, airstrips and clinics in the Sierras. This intrusion of modern civilization has had an impact on all aspects of their lives. Now they need currency to travel, buy materials, etc. There are efforts to come to their assistance. Right in Ajijic I met individuals who are playing a role. Pedro Guerra Garcia runs a shop selling Huichol art located directly across from La Neuva Posada. I spoke to him one morning.

Are you Huichol?", I asked. "No, he replied with a smile, "but I am interested in the Huichol and their ceremonies. I want to help them preserve their traditions and make some money. Traveling artists drop by; I give them the wooden forms. They take them away and come back with them beaded. The Huichol are not salespeople. They live on their lands in Jalisco, Durango, Zacatecas, Nayarit. They speak nearly pure Nahuatl and so have trouble selling their work to tourists".

Pedro plays host to two families who make the larger pieces displayed in his store. The shop is as colorful as a Huichol mask and has some extraordinary pieces, a large mermaid, a jaguar mask, and beaded pictures as big as large oil paintings and smaller items too. I asked him how business is. "People who live in the village bring their guests. Tour buses come from Guadalajara. But I have no money to advertise. I rely on my location and word of mouth".

The Huichol are a special people in our midst. Their work is artistic, labor intensive, and made with skill and patience. Their traditional way of life is being eroded, but we can help them out by purchasing their art work.
---
Views of Ajijic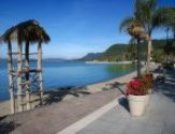 If you haven't been to Ajijic in awhile (and even if you have), enjoy this video of our beautiful plaza and the new and nearly finished malecón (boardwalk) running along the lakeshore in Ajijic.

It is lovely and refreshing to walk along the malecón with its 180 degree views of the lake and mountains. They will be landscaping the park with grass soon so everyone can once again enjoy having picnics and family events here.
---
Tapas Are for Sharing
Written by Harriet Hart

Wikipedia says that "Tapas is the name of a wide variety of appetizers, or snacks, in Spanish cuisine which may be cold or warm. Tapas has evolved into an entire, and sometimes sophisticated, cuisine. Patrons of tapas restaurants can order many different tapas and combine them to make a full meal. As with any cuisine exported from its original country, there can be significant differences between the original Spanish dishes and the dishes as they are served abroad. The serving of tapas is designed to encourage conversation because people are not so focused upon eating an entire meal that is set before them."

Tapas have come to Ajijic and Tapas are for Sharing! There are three upscale and fun restaurant/bars in Ajijic that serve light plates or tapas; two are new and one has been open for a couple years, and they're all worth a visit. While you can certainly order just for yourself, it is really fun to share these light plates with some friends so each can try a variety of flavors and textures.

Chili Bang Bar
Cathy, your hostess at Casa del Sol, invited six women friends to check out the newly opened Chili Bang Bar one cold evening in early February. As soon as we entered, I felt welcome. There were fires burning merrily and the décor intriguing. I've dubbed it Mexican Medieval. Once a grand village home, the building boasts a palapa ceiling made from palm leaves and hacienda style arches dividing the rooms but the new owners have added a medieval touch with pitted and polished concrete walls and large red chandeliers in the shape of chilies. Add a roaring fire, and you can imagine yourself on a pilgrimage to Canterbury (with quite a different menu!).

Like Chaucer's Canterbury Pilgrims, the seven women were ready to eat, drink and swap stories. The menu is perfect for a group. Portions are designed as light meals or snacks to share. We ordered: two pizzas, crispy Indian samosas with Chilibang chutney, a mango, shrimp and avocado salad, sticky ribs, Holy Basil chicken, marinated scallops grilled right at the table on a hot rock, and gado/gado salad. While we waited for our food, we sipped the usual cocktails – mojitos and margaritas; the chef, Greg Couillard, introduced himself and Omar, the bartender, also paid our table a visit so by the time the food arrived we were feeling like the most popular patrons in the place.

The food is fantastic. We especially enjoyed the Holy Basil chicken, samosas and the pizzas which are tasty and imaginative – one topped with gorgonzola cheese and pears, another with roasted red peppers and asparagus. Even the plainer fare such as the sweet potato fries were top notch. Just when we decided to leave, Chef Greg sent our table a round of exquisite dessert – lemon curd with cream. Great food, great ambiance, great fun.

The Chili Bang Bar is owned by the same folks as Number Four Restaurant and while the Chili Bang Bar has a much more casual menu and atmosphere, they are clearly striving for the same high quality of food (at much lower prices). Located at Hidalgo #15, just ½ block west of the Ajijic Plaza; open Tuesdays – Saturdays at 5:30 pm until 11:00 pm Tuesdays – Thursdays and until Midnight on Fridays and Saturdays. They serve food later than many restaurants in town, and also have full meal choices in addition to the light plates. Currently there is music Friday and Saturday nights. Telephone: 766-1919

Go: Le Club
One down and two to go, Cathy called me and said "Can you and Paul join me with a couple of good friends at Go: Le Club on Friday night?" Why not? I'd been hearing rave reviews about restaurateur Peter Palmer's (of Pedro's Gourmet Restaurant) new night spot. Go has a completely different atmosphere from the Chili Bang Bar. It's on the mountain side of Ajijic, up several flights of stairs on the roof of Peter's home. We went at 6:30 in time to watch the setting sun and enjoy night fall over Lake Chapala. The views of the village, the lake and mountains are incredible; the setting intimate yet sophisticated. Cathy announced: "it's my favorite place to share a meal with friends." Peter himself does the cooking; the serving staff are very pleasant and efficient, and the food terrific.

There are 10 cold and 10 hot appetizers offered. We tried the Thai noodle salad, the pork satay with peanut sauce, the arrechera with hoisin sauce, the lemon & basil rotisserie chicken and the antipasto plate with Italian pepperoni, summer sausage, smoked black forest ham and tomato, mushroom & celery salad with kalamata olives. The plates are appetizer size but by the time we tasted all these choices, I was full. Everything was delicious and nicely presented.

There's something about the décor, the view, and the food that makes you feel like you're in a more sophisticated spot than Ajijic – Peter/Pedro has created a big city atmosphere in a small Mexican village.

Go is located on the corner of Encarcion Rosas and Emiliano Zapata, just one block uphill from the Guadalajara Pharmacy. Open 4 nights from Wednesday to Saturday at 6:00 pm; it closes at 10:00 on Wednesday and Thursday and Midnight on Friday and Saturday – Go also serves later than many other restaurants. Full meal options are also on the menu and they're open for lunch Thursday and Friday at 1:00 p.m. For reservations call 045–333–502–6555 from a land line and the last ten digits from a cell phone.

Olé Olá
Olé Olá, located at Donato Guerra #17 (a block up from La Neuva Posada at the corner of 16th of Septiembre) is a delightful European style tapas bar. In his 2010 Restaurant Guide, John Keeling describes it as "a delightful place to have a drink, chat and snack on tapas." I agree.

My husband and I joined the Keelings there one evening last winter and tried a variety of the tapas. Our favorites were the stuffed portabello mushrooms and the chocolate brocheta. The garlic fried lettuce is also very popular and there is usually a scrumptious shrimp dish and several other tapas, both vegetarian and with meat. The menu rotates regularly so you can try different things at each visit.

The tall tables are close together, so you often end up in fun conversations with others – it truly has the feeling of an upscale bar rather than a restaurant. Unlike many night spots, this one is relatively quiet and decorated in such a manner that it's easy to pretend you're in Spain, not Ajijic, Mexico. Olé Olá is open Thursdays to Saturdays from 5:00 to 10:00 p.m., telephone 766-0596.

Casa del Sol owner Cathy Roberts puts all three of these spots high on her list of recommended places to enjoy a light meal or dessert and they are all within walking distance of Casa del Sol.

---
Avocados Aren't Just for Guacamole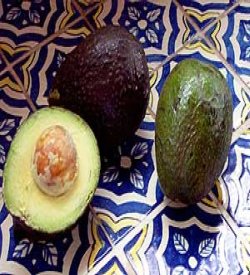 Excerpted from Mexico Insights by Judy King and Lorraine Russo (July 2009)

Here are some quick facts about the creamy, rich avocados so prevalent in Mexico:
• The fruits are ready to use when they are firm and give slightly to pressure.
• Avocados never ripen on the tree. They ripen once they are picked.
• Alligator pear is another name for the bumpy, green-skinned fruit.
• The pebbly-skinned black avocado is the Haas, the larger, longer variety, the Fuerte, is another common variety throughout Mexico.
• The Caribbean or Florida variety has a lighter texture, lower oil content and a fruity sweetness.
• The tiny wild avocados can be eaten, skin and all.
• In some vegetarian and cooking circles, avocados are called "green butter".
• Toasted avocado leaves are used to season special Mexican dishes and some tamales.
• Ripen grocery store avocados in a paper bag for two or three days.
• If you hear the pit rattle when you shake an avocado, choose another fruit.

Following are some unusual and delicious recipes tried and tested by Judy and Lorraine:

Rosa Mexicana's Guacamole
Seasoning paste:
1-2 teaspoons minced Serrano or jalapeño chiles (with ribs and seeds)
1 tablespoon minced white onion
1 tablespoon chopped fresh cilantro
1/4 teaspoon salt
Combine all ingredients in a molcajete (mortar) or heavy bowl. With pestle or back of spoon, mash mixture to a paste.

Guacamole:
1 large avocado, peeled and diced
1/4 cup ripe tomato cut into 1/2" cubes
2 tablespoons white onion cut in 1/4" dice
1 tablespoon chopped cilantro
1/4 teaspoon salt
1/2 to 1 teaspoon minced Serrano or jalapeño chile, optional, to taste.

Add one half of the avocado to the seasoning paste and crush to a rough texture. Add tomato, onion, cilantro and salt, mixing lightly. Add the remaining diced avocado half and salt and fold into mixture, being careful to maintain the texture. Add chile if desired.

Putting the avocado pit into the serving bowl will help keep the mixture from turning brown.

Chilled Avocado Soup
4 avocados
1/4 cup lime juice
1 clove garlic
3 tablespoons chopped onion
1 cup heavy cream, crema or cultured sour cream
3 cups cooled chicken broth

Blend all ingredients well in a food processor or blender. Chill well. Garnish each serving with fresh Salsa Mexicana (Mexican sauce).

Tropical Shrimp and Avocado Salad
4-5 cups chopped lettuce or baby greens
1 1/2 pounds medium shrimp, shelled and deveined
2 cups cubed ripe (but firm) papaya
Optional: substitute orange segments or cubes of mango or pineapple for papaya
2 cups cubed ripe (but firm) avocado
6 canned hearts of palm, rinsed and patted dry and then cut into half-inch sections
2 cloves garlic, minced
2 tablespoons, extra virgin olive oil
1 teaspoon lime juice

Dressing:
3/4 cup mayonnaise
3 tablespoons ketchup
2 tablespoons brandy
2 tablespoons lime juice
1/4 teaspoon cayenne

Plunge cleaned shrimp into a large saucepan of boiling salted water. Reduce heat to simmer just until firm—one or two minutes. (Don't over cook). Drain shrimp and transfer to a large bowl, adding oil, garlic and 1 teaspoon lime juice. Set aside to marinate and cool.

Meanwhile, in a small bowl, whisk together the dressing ingredients. The dressing may be made a day in advance and stored covered in the refrigerator until time to serve the salad.

Just before serving, add avocado, papaya and hearts of palm to the cooled shrimp mixture, tossing gently with the dressing.

Divide lettuce among four chilled salad plates, mounding dressed salad on lettuce. Garnish with sprigs of fresh parsley or cilantro.

Avocado Lime Pie
Pie filling:
1 1/2 cup mashed ripe avocado (about 1 1/2 large avocados)
1 14-ounce can sweetened condensed milk
1/2 cup fresh lime juice
Grated rind of one lime
3 egg yolks
Dash of salt
1 9-inch baked or graham cracker pie shell

Garnish:
Whipped cream
Avocado slices or balls
Chopped nuts
Toasted coconut

Combine milk, lime juice, grated peel, egg yolks and salt in blender, food processor or mixer and beat at high speed until mixture is thickened. Fold in the very well mashed avocado and then pour into the pie shell and chill for at least three hours. Just before serving, garnish the entire pie, or individual pieces with your choices from the above list.

Yummmm.....avocado-licious!!
---
Day Tripper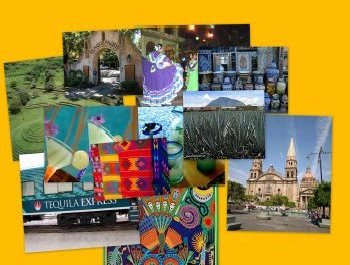 Written by Harriet Hart

I'm a firm believer in taking day trips and guided tours. They are the simplest, most efficient and often most economical way of getting your bearings, seeing the highlights of a region and meeting fellow travelers.

Charter Club Tours
On my first visit to lakeside I booked a trip to Michoacan to see the Monarch butterflies. Charter Club Tours in Plaza Montana, Ajijic were offering a three day excursion; 12 other intrepid tourists and I piled into a van driven by Carlos Alfaro Tamez (general manager of Charter Club) and off we went. It was one of those adventures you never forget, marked by laughter, a death defying trip up the mountainside and the magic of seeing the monarchs themselves.

Carlos was such a good tour guide, once I settled here I took more of his trips including a one day tour of Guadalajara, a tailor made tour of the murals in that same city, and a week-long Christmas adventure in Mexico City.

Recently I stopped by Charter Club's office and found Carlos himself preparing for another busy day. "What's new?" I inquired. He proudly advised me that Charter Club is now a travel agency. "We book airline tickets, bus tickets, rent cars and offer our usual broad range of tours."

If you're staying in town, even for just a week, I recommend one of their day trips. On Sundays you have a choice: the Ballet Folklorico and/or the Guadalajara City tour; Monday it's the mountain town of Mazamitla, Tuesday the town of Tequila, Wednesday a bus trip that goes around the lake visiting all the small villages and surrounding countryside, on Thursday it's shopping in Tonala and Tlaquepaque, Friday the pyramids of Teuchitlan and Saturday you can board the Tequila Express to see the town where the margarita is King and distilleries produce Mexico's national beverage.

In addition to day trips, Charter Club offers short excursions to nearby colonial cities. Carlos is currently finalizing plans to visit two in May: Zacatecas and Querétaro. Both colonial cities will charm you with their churches and museums, fine restaurants and ambiance. For more information about Charter Club tours, click here to visit their website or email info@charterclubtours.com.mx.

Sunset Tours
Sunset Tours, located in San Antonio on the Careterra at #161A is another owner/operated company where tourists can expect personalized, high quality service from owner/operators Ricardo and Lilly. My husband and I took a trip with them last fall to see the giant sea turtles laying their eggs on an isolated beach in Michoacán.

My introduction to ecotourism couldn't have been better. Ricardo is a bilingual licensed tour operator who looked after the driving and organizational details; Lilly, his wife, looked after making sure we were well fed (including home-made ham sandwiches on the road) and individual rolls of toilet paper in case the rustic cabins on the beach weren't equipped.

I recently called the office of Sunset Tours and spoke with Gustavo, their bilingual and friendly office manager. He told me that although it's a quieter time of year, Sunset has some special trips planned for April and May. On April 23rd they took a group to San Miguel de Allende and Guanajuato and in May they're headed to Puerto Vallarta to an all-inclusive four star resort. This will only cost $2500 pesos per person and is a great way to see a little sand in addition to visiting Lake Chapala.

Ricardo and Lily will design a tour just for you – including deep sea fishing, day trips to Guadalajara and Tapalpa. To find out more, click here to visit their website; to speak to them personally call 766-0012 or drop in to the office in San Antonio which is open Monday to Friday from 9:00 to 6:00.

Activ8Chapala
If you are the adventurous kind, try Activ8chapala, a new company that offers lessons in more strenuous activities such as rappelling, paragliding, climbing, horseback riding, mountain biking, kite surfing, sailing and hang gliding. The crew is comprised of Peter Brinkley, founder, a former paragliding test pilot, climbing instructor and kitesurf teacher and his talented team of Juan Jorge Garcia Mendez, Andres Ibarra Gomez and Gerard Militello.

Singer Mike Fortier, more daring than I, recently tried the paragliding and sent me an email describing his experience: "Ever wished you had wings? About a month ago Lana and I went paragliding with the help of Peter and John from Activ8chapala. The views of the mountains and lake were just spectacular …And since we were harnessed in tandem with these licensed, experienced pilots, we could just relax and enjoy the view from the air knowing we were safe and in good hands."

Peter Brinkley tells me that he started this company because:" Adventure sports are my passion and when I moved to Chapala I was frustrated because I had no-one to do those sports with. If I wanted to do the things I love, I decided I'd better open a company and teach people."

He assured me that novices are welcome and no prior experience is necessary. The lessons are all tailored to your level. For more information, click here to visit their website or contact Peter at peter@activ8chapala.com.

Red Cross Shopping Trips
Finally, if power shopping is more to your taste, check out the Red Cross desk at the Lake Chapala Society when you arrive in town. The Red Cross offers day trips to shopping malls in Guadalajara – On May 6th and again on June 3rd they're off to Plaza Galerias – and the tickets are only $100 pesos.

There are so many things to do in Ajijic so don't limit yourself – a day trip will add to your holiday and give you a sense of the riches lakeside has to offer whether it's sightseeing by bus, on horseback, sailboat boat or up in the air.

---
Mexico's Big Hope: Get 5 Million U.S. Retirees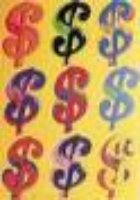 From The Miami Herald/April 17, 2010 by Andres Oppenheimer

MEXICO CITY -- Mexico is silently working on proposals aimed at drawing millions of U.S. retirees to this country, which could eventually lead to the most ambitious U.S.-Mexican project since the 1994 North American Free Trade Agreement.

President Felipe Calderón is likely to propose the first steps toward expanding U.S. retirement benefits and medical tourism to Mexico when he goes to Washington on an official visit May 19, according to well-placed officials here. If not then, he will raise the issue later this year, they say.

"It's one of the pillars of our plans to trigger economic and social well-being in both countries,'' Mexico's ambassador to the United States Arturo Sarukhan told me. "We will be seeking to increasingly discuss this issue in coming months and years.''

Calderón brought it up during a U.S.-Canada-Mexico summit in Guadalajara in August last year, but President Barack Obama asked him to shelve the idea until he was able to pass healthcare reform, another official told me.

Now that Congress has passed healthcare reform, Calderón is preparing to charge ahead.

A GROWING MARKET
There are already an estimated 1 million Americans living in Mexico. And according to Mexican government estimates based on U.S. Census figures, that number is likely to soar to 5 million by 2025 as the U.S. population grows older and more Americans look for sunny, cheaper places to retire.

The U.S. Census projects that the number of U.S. retirees will soar from 40 million now to nearly 90 million by 2050. Already, 5 million American retirees live abroad, of whom 2.2 million are in the Western Hemisphere -- mostly in Mexico, the Dominican Republic and Brazil. Another 1.5 million live in Europe and 850,000 in Asia.

The key to luring more U.S. medical tourists and retirees to Mexico and other Latin American countries will be getting hospitals in the region to be certified by the U.S. Joint International Commission, which establishes that they meet U.S. hospitals' standards. There are already eight Mexican hospitals certified by the JIC and several others awaiting certification.

According to Mexican government estimates, healthcare costs in Mexico are about 70 percent lower than in the United States. And from my own experience, those estimates are right: As I reported at the time, when I was hospitalized in Mexico two years ago for an emergency operation, my hospital bill was indeed about 70 percent lower than what it would have been in Miami.

So what will Calderón specifically propose to Obama? Most likely, the Mexican president will suggest starting with a low-profile agreement that would allow the U.S. Health Care Financing Administration to pay for Medicare benefits to U.S. retirees in Mexico. Under current rules, Medicare only covers healthcare services in the United States.

IT JUST MAKES SENSE
My opinion: Mexico and much of Latin America are bound to become growing U.S. retirement and medical tourism destinations, much like Spain has become a permanent living place for Germans, Britons and Northern Europeans.

You won't read much about it now because neither Calderón nor Obama will emphasize it publicly while the drug-related violence in northern Mexico is making big headlines, and while the political wounds from the recent U.S. healthcare debate are still open in Washington, D.C.

But I'm increasingly convinced that, as the violence in Mexico subsides and the healthcare debate becomes a distant memory in Washington, medical benefits' deals will become a top U.S.-Latin American priority. Just as free-trade agreements were the big thing of the 1990s, healthcare agreements will be the big deal of the coming decade.

I wouldn't be surprised if Calderón and Obama take the first baby steps toward a U.S.-Mexico healthcare agreement by finding a way to pay for Medicare benefits for U.S. expatriates in Mexico, or getting U.S. states to allow similar payments. Then, most likely after the 2012 presidential election in both countries, the two would start negotiating a more ambitious deal.

Demography, geography and economics are pointing in that direction. With the U.S. population getting older, a record U.S. budget deficit, rising U.S. healthcare costs, and Mexico and other Latin American countries badly needing more tourism and investments, this should be a win-win for everybody.
---
Upcoming Events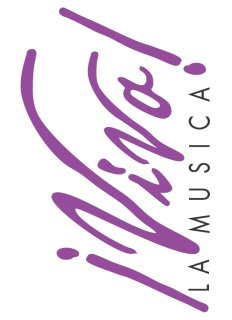 We're heading into the quieter time of year at lakeside. The snowbirds have flocked north, the streets and restaurants seem less crowded and we year-rounders stretch and grin and say "it's easier to get a parking space" or "you don't need a reservation for dinner." Yes, it's quieter but there are still special events in addition to all the usual entertainment. Here's a sample of a few.

Rotary Ajijic
May 5 Cinco de Mayo Party Fundraiser

Cruz Roja
May 6 Day Trip to Plaza Galarias in Guadalajara
May 11 Day Trip to Opal Mines and Hacienda
May 18 Day Trip to Tonala
June 3 Day Trip to Plaza Galarias in Guadalajara
June 15 Day Trip to Tonala
July 1 Day Trip to Plaza Galarias in Guadalajara
July 20 Day Trip to Tonala

Naked Stage Productions
May 14,15 & 16 The Seafarers

VIVA la Musica
June 17 Chris Wiltshire on violin with a piano trio
July 15 Jalisco State Chorus
August 19 Cellist Isaac Ramirez and pianist Andres Sarre
September 14 Ensemble Filarmonica with Luciano Perez and soprano Dolores Moreno
October 21 The season's final event will be a fully staged opera, Rigoletto

Tickets go on sale June 1 at the Lake Chapala Society. Season tickets will be $1,000 for Viva members and $1250 for non-members. Individual tickets are $250 or $300 and the opera is $300 or $350. Why not take in some classical music while you're in town and help support VIVA scholarship programs?

ACA Eco Talks
ACA, an organization dedicated to teaching organic farming principles to Mexican people is holding a series of events this spring, kicking off with a Spring Fling and Lily sale at the ACA Eco Centre at a cost of $50 pesos. There will be a number of other events over the spring and summer. Highlights include:

May 12 a Bio-Diversity walk/talk with photographer Xill Fessendon at 12:00 noon
May 26 a trip to the Abastos Market in Guadalajara
June 20 a bus tour focused on organic gardening

For more details contact acaecotalks@gmail.com

And don't forget to check out the Events page on our website as you plan your next trip to the Lake Chapala area
---
Beautiful Lake Chapala

While high season (generally November - April) boasts a very busy calendar full of special dances, dinners, fundraisers, parties, art shows, musical events etc, our (slightly) slower season (May - October) has its own charms. Restaurants are less crowded, the frenetic pace slows to a gentle walk and the warmer days of May and June encourage you to get errands accomplished in the morning and relax in the hot afternoons in front of a fan with a good book or float in the pool enjoying the blue, blue skies.

And then our glorious rainy season arrives in mid-June. By the early part of July, the mountains are lush green (many say like Hawaii) and the rains freshen the parched earth and our spirits.

If you have never visited the Lake Chapala area during the summer months, I encourage you to do so. For those of us who live here year round, it is our favorite time of year. Mostly sunny days, fabulous thunderstorms late afternoons and evenings, warm during the day and deliciously cool at night when it rains, the gardens are more bountiful than ever and the lake fills up once again.

So make your way to Lake Chapala and Casa del Sol this summer for some of the best weather in the world!!

Hope to see you soon!!


Cathy Roberts
Owner/Innkeeper
Casa del Sol Bed & Breakfast Inn
---